Printed from https://www.writing.com/main/newsletters/action/archives/id/11600-The-Power-of-Touch.html


Romance/Love: October 19, 2022 Issue [#11600]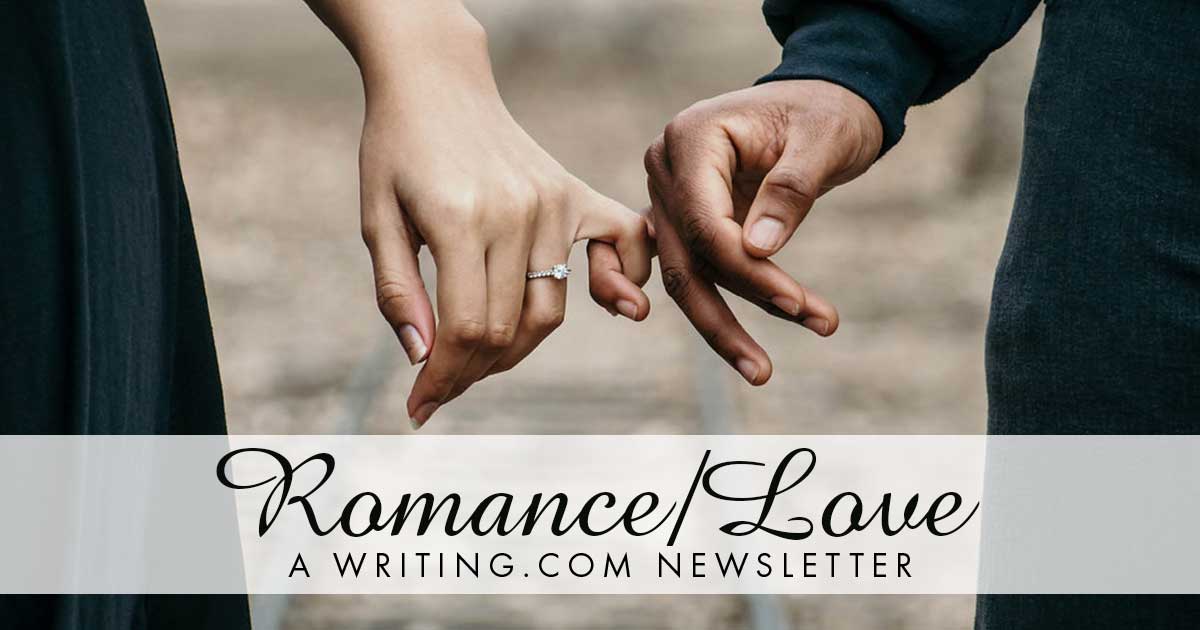 This week: The Power of Touch

Edited by: Lilli Munster ☕️ 🧿


More Newsletters By This Editor





1. About this Newsletter
2. A Word from our Sponsor
3. Letter from the Editor
4. Editor's Picks
5. A Word from Writing.Com
6. Ask & Answer
7. Removal instructions




Intimacy involves several key factors: trust, acceptance, honesty, communication, affection, safety, and compassion. All of these factors foster closeness or intimacy in a relationship.

As writers, we need to find ways to incorporate these into our romance stories and bring the characters to life and lead them to love.


| | |
| --- | --- |
| ASIN: B004PICKDS | |


There are many ways writers can show love and intimacy between characters without throwing them into bed together. This week we'll cover some ideas you can try out in your Love/Romance stories!

Remember to use your "show, don't tell" skills to really lure your readers into these scenes!



One character raises their hand to another character's forehead to check for a fever.



Wiping away someone's tears.



Giving a hand/foot/back/neck massage.



Gently removing an eyelash from someone's cheek.



Whispering in someone's ear.



The characters have a deep and vulnerable conversation.



A character may leave a special note for another.



Dancing together.



Characters may read to one another.

Non-sexual affectionate touching can be a wonderful way to show an intimate connection between characters.

Here are some good resources to help in this area:


| | |
| --- | --- |
| ASIN: B01M0BE4UP | |
| | |
| --- | --- |
| ASIN: B00507TH9I | Kindle |
| | |
| --- | --- |
| ASIN: B07MTQ7W6Q | |

Making a purchase through these

links helps WdC!



Try (E)
All for you, Mike Bier עדי עד
#

2282220

by Crystal Dragon
Time Matters (18+)
The end is only the beginning of something new.
#

2280722

by Nixie 🐱 out for surgery
Lost (E)
What is true love? And where do you find it? Do you even care to know? Well, one man does.
#

2280445

by Joseph Mack
The Eleventh Sign (ASR)
The square root of a negative contemplates Skye becoming the Aurora Borealis of his soul.
#

2280411

by BKCompton Encased In Carbonite
Strawberry Shortstop (GC)
Baseball can be fun once you get to know the players... especially the shortstop.
#

2279738

by Kåre Enga going to 🇹🇭
Deborah's DIY Date (18+)
Is there romance after divorce? Deborah investigates. 2nd place in Journey Through Genres.
#

2274243

by Avid Novel Reader
Excitable Girl (18+)
Paul's date night at the movies takes a nasty turn, thanks to Alfred Hitchcock...
#

2273913

by Dan's Working on It
Don't forget to nominate great work here:
Quill Nomination Form 2022 (E)
Nominate someone for a Quill!
#

2145930

by Lilli Munster ☕️ 🧿




Have an opinion on what you've read here today? Then send the Editor feedback! Find an item that you think would be perfect for showcasing here? Submit it for consideration in the newsletter!
https://Writing.Com/main/newsletters/action/nli_form



Don't forget to support our sponsor!




| | |
| --- | --- |
| ASIN: B01FST8A90 | |




| | |
| --- | --- |
| ASIN: 0910355479 | |




To stop receiving this newsletter, click here for your newsletter subscription list. Simply uncheck the box next to any newsletter(s) you wish to cancel and then click to "Submit Changes". You can edit your subscriptions at any time.



Printed from https://www.writing.com/main/newsletters/action/archives/id/11600-The-Power-of-Touch.html