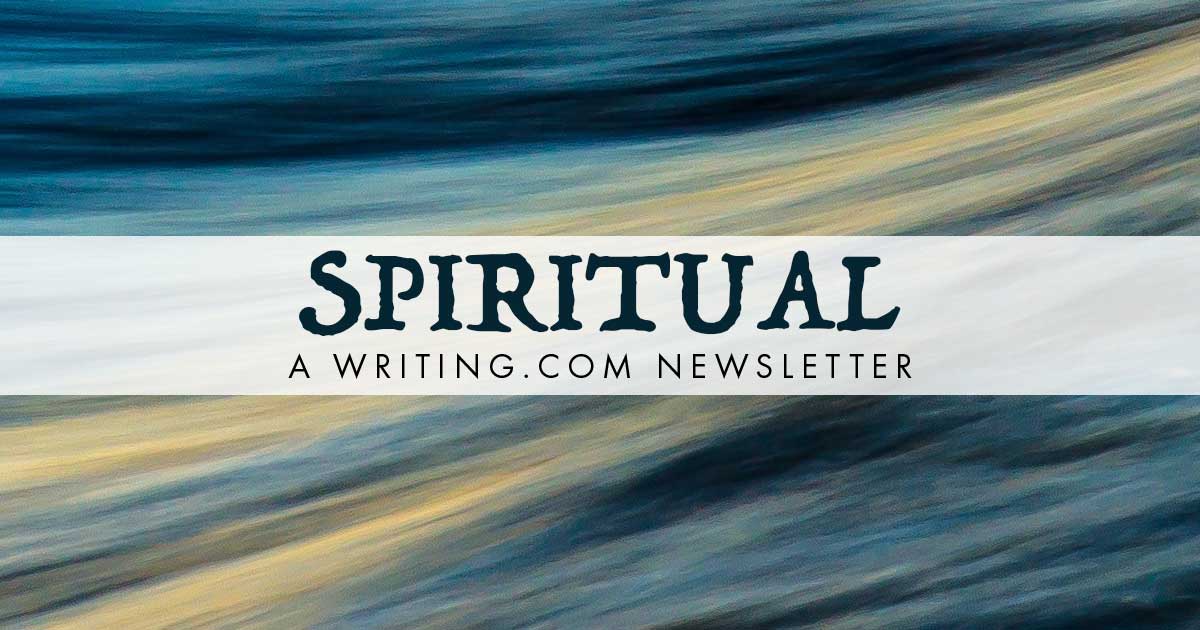 This week: Spiritual Dreams

Edited by: Snow Werewolf


More Newsletters By This Editor





1. About this Newsletter
2. A Word from our Sponsor
3. Letter from the Editor
4. Editor's Picks
5. A Word from Writing.Com
6. Ask & Answer
7. Removal instructions




I have had several spiritual dreams over the years, which have both guided me on my spiritual path and confirmed my choice. Each of these dreams has remained in my memory, giving me something to meditate on over the years.


| | |
| --- | --- |
| ASIN: B07B63CTKX | |


Have you had any spiritual dreams lately? I had a spiritual dream a few nights ago. I knew it was spiritual because it stayed with me when I woke up. It also contains what I consider spiritual symbols and the name of my Lord.

What is the difference between a spiritual dream and an ordinary dream? A spiritual dream will remain with you after waking up. Some times you remember them all your life. Most spiritual dreams, at least the ones I have had, leave you with a pleasant feeling after waking up. They also contain spiritual symbols that the individual associates with their spiritual path.

In my latest dream, I was in my parent's house in Blackwell, Oklahoma. I was in my bedroom looking at a bookshelf containing several large volumes of books. Most of the room was in darkness, but I could see the bookcase and books clearly. I reached for my favorite hardbound fantasy book, which had a dark red cover. At that moment, a light showed on another book, with a white cover and a title in gold letters. The title of the book was Baha'u'llah. Instead of taking the fantasy book, I the book titled Baha'u'llah. That is when I woke up.

Have you had any spiritual dreams that led you on your spiritual path? What symbols were in them? Some of the symbols you might encounter are clouds, water, people in your family or faith group, acquaintances or people from other faith groups, etc.

Remember to always keep something beside your bed to write down the symbols. Even if the dream stays with you, you will still want to check the symbols when you record your dream. It also helps to pray right after waking up from the dream, because you could receive insight that helps you understand the dream.



And This Is Our Story (E)
For those who of us are lost and need to rediscover our faith in God and the Universe.
#

2282255

by DayleeCoffee
I am Pentecostal (E)
People don't always understand me, but that's okay.. I'm going to praise God anyway
#

2280462

by BB
God's Holy Message (E)
To seek forgiveness is Divine.
#

2268599

by Debanjan
Joyful Pride - A New Meaning (E)
The sweetness of Heaven - a cherished middle-class - a poem.
#

2282116

by Tim Chiu
Idealism and the Soul (E)
How to interpret the Doctrine of the Soul under Idealism, rather than Substance Dualism.
#

2182277

by HealingWord
Words (18+)
the power of words...a 2017 Quill Award Honorable Mention Winner
#

2117339

by Jim Hall
Hearts of Stone (13+)
The world has little relief for certain hurts, not so with God
#

1064088

by Eric Wharton
Cycle of Life (E)
The ups and downs
#

2282114

by Dondee
Tolerance (E)
Recognizing differences is the first step toward acceptance
#

2281661

by Dan's Working on It
Submitted by Readers
A Step Into... (E)
Looking into what is next. Is it breathtaking?
#

2281339

by Marrikasala




Have an opinion on what you've read here today? Then send the Editor feedback! Find an item that you think would be perfect for showcasing here? Submit it for consideration in the newsletter!
https://Writing.Com/main/newsletters/action/nli_form



Don't forget to support our sponsor!




| | |
| --- | --- |
| ASIN: B01CJ2TNQI | |


BIG BAD WOLF is Howling

writes: I've recently been writing stories involving characters that die, either at the beginning, or by the end. Most of the time, they spend their remaining time doing what they could - one freed the slaves on the farm he'd been living at, a few characters spent their last days enjoying it with a friend, a married couple stated that they'd accept any form if it meant that they'd be together again, and another made sure that their killer wouldn't escape punishment, I even have one involving a ghost/hallucination telling their friend to do what they needed to do in order to save a bunch of innocents, and bring their killer to justice.

Apondia

writes: As a follower of Christ, I believe our souls are immortal. Plus, I read a lot about scientific discoveries. Sometime during 2022 I read a book written about Physics. The author was a Christian and stated that evidence suggests that we simply go to sleep and wake up in a different realm. I wish I could tell you the author and title of the book. I don't have it presently but, it was a family story about a father and son who were both Christians, both scientists working with physics, and had delved into the science side of souls.

AmyJo - pumpkin eater

writes: Oh, goodness! This is actually what brought me to WdC...Back in July, I had a kidney infection that turned septic, and was literally knocking on a "casket door". It's kind of surreal, and the hallucinations/dreams? still boggle my mind. Thank you for touching on this subject. It is one I am not sure how long it will take to "get over" - if, ever.

Zeke

writes: The thought in this piece is so very true. I believe in spiritual immortality also
Zeke



| | |
| --- | --- |
| ASIN: B07P4NVL51 | |




To stop receiving this newsletter, click here for your newsletter subscription list. Simply uncheck the box next to any newsletter(s) you wish to cancel and then click to "Submit Changes". You can edit your subscriptions at any time.